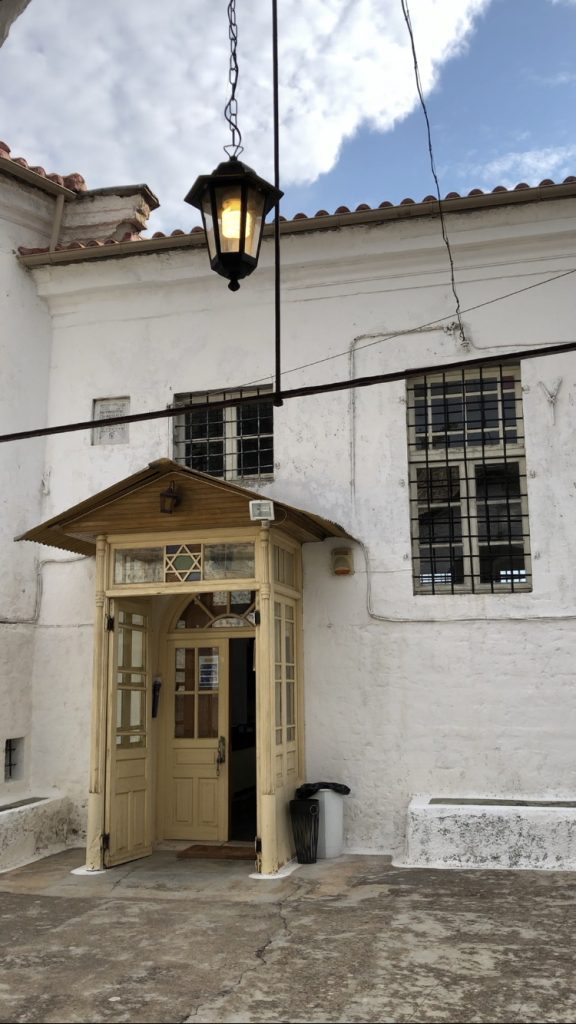 The Kahal Kadosh Yashan Synagogue on Justinianos Street is located inside the walled Castro, near the Big Gate.
The original structure of the synagogue probably dates to the Byzantine period. It is not clear whether it was constructed on the site of an earlier synagogue or if it is the first official house of worship of the Ioannina Jews. The synagogue also had a smaller synagogue next to it, but it was destroyed during the occupation by the Germans. The Jewish community of Ioannina does not have the money to restore it, thus, the shell of the former small synagogue (Minyan) remains as left by the Germans.
A tall, stone wall surrounds the synagogue and its property. The synagogue is built as a square and is divided by eight interior columns with connecting arches. At the eastern end is a neo-classical Holy Gate "Ehal Akodes" and opposite, at the western end is an elevated "Bemah", from which the Torah is being read. The women's section (mehitza) is in the balcony that runs along the northern side. The devan-like benches are parallel to the central axis of the building. A box behind each seat holds a prayer shawl, a prayer book and tefillin (for the men's morning prayer). Along the walls of the interior are a series of plaques inscribed with the names of those Ioannina Jews lost in the Holocaust. This interior design conforms to the Romaniote tradition (with some Venetian and older local influence). The women's ritual bath (mikvah) is located outside and behind the building.
Although the synagogue has been restored twice, in 1881 and in 1987, the building still retains its original character.
The Minyan Yashan (the annex) was known as the House of Abraham and Sarah because it was built by the Abraham family. During the occupation, the Germans burned the building and its shell is all that remains.
The synagogue likely survived the occupation as a result of the efforts of Demetrios Vlachides, who was the mayor of Ioannina. He seemingly convinced the Germans that the Greeks would use the building as a library and that the Torah Scrolls and other sacred material should be placed in the municipal museum. These were returned to the survivors after the war. The Germans took the furniture, decorations and chandeliers. Mayor Vlachides was honored with a gold plaque inside the synagogue.
After the war, the handful of Holocaust survivors retuning to Ioannina sent Torah Scrolls and tiks to their sister synagogues, the Synagogue of Abraham and Sarah in Jerusalem, and in NYC, the Kehila Kedosha Janina Synagogue. These "treasures of Ioannina" still remain in Jerusalem and New York.
In case you want to visit the Synagogue, call us at: +30 26510 25 195