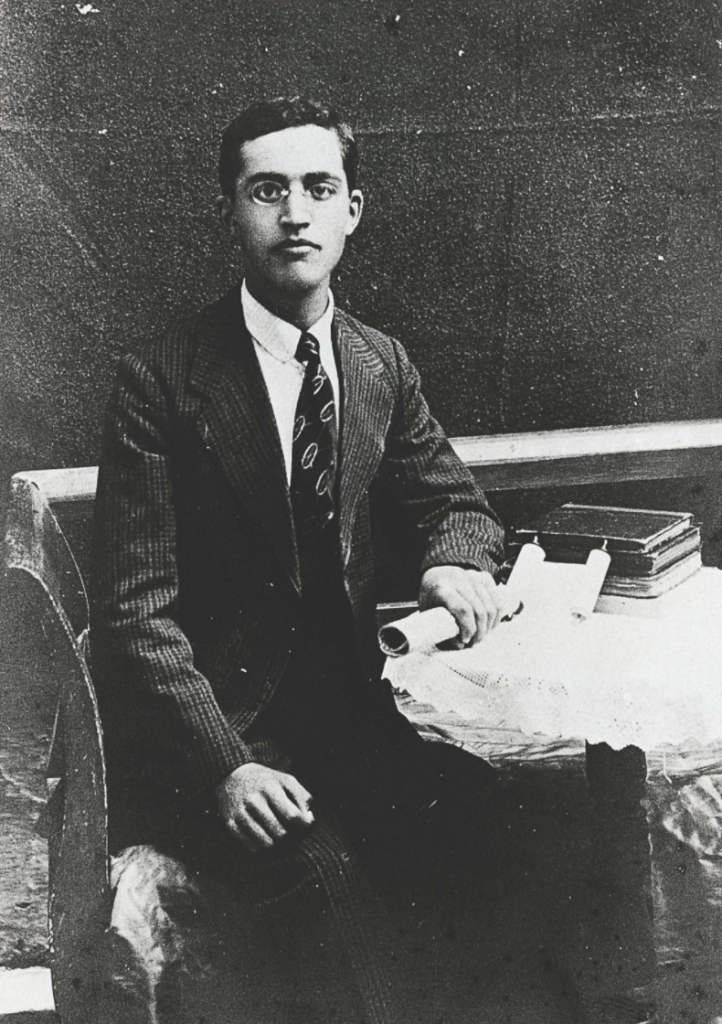 A Jew and a Greek in one…
The first Jewish poet to write in Greek…
Christos Christovasilis
Joseph Elias Kapoulias, better known as Joseph Eligia, was born in Ioannina in 1901. Joseph Eligia was the only son of a humble family. He was brought up in poverty in Arsaki Street in the Jewish quarter of Ioannina, but had the tender loving care of his mother, Hanoula. He differed from other children of his age in his great love of reading and study. From a very early age he took delight in Writings, often under the supervision and guidance of Sabethai Kambilis. Joseph attended the Alliance Israèlite Universelle School, where he acquired a good grounding in French language and culture. Unlike most of his contemporaries, he also studied Modern Greek language and literature, and gradually acquired a comprehensive understanding of Jewish life and Judaism. A multifarious personality, he was only 18 when he started publishing poems in the Zionist publications that were produced in Ioannina and its neighbouring towns and villages; one such publication being the newspaper Israel, published in Trikala. He spent his military service doing a desk job, which left him time to devote to private study.
That is how Joseph Eligia's Zionist oriented period began; a period when his approach to Jewish identity in the communities of the Diaspora was different from the prevailing conservative point of view. The depth of his knowledge was brought eloquently to light in the text of his lecture On Post-Biblical Poetry, which he delivered at Zosimaia School in December 1924. Not satisfied with a straightforward reading of the sacred passages, Eligia delved deeper into them with his critical sense in order to demonstrate their timelessness and applicability to every age. With great sagacity he touched upon the finer points of their metaphysics and theology, sparking thought-provoking social issues, but also expressing wise views on Greek-Jewish identity. His views soon became assimilative and he was dubbed the Alliancist. As Victor Behoropoulos, then president of the Jewish Society of Ioannina, so aptly put it in a literary memorial to the poet in 1935, 'Joseph, very rightly, would have the Jew in Greece first a Greek and then a Jew.' His integrity of character and unbiased nature made such an impression that Professor G. Beis thought he should be given the post of Professor of Jewish Studies that was soon to be announced at the University of Thessaloniki.
His academic career was hampered by the state of his family's finances, which deteriorated after the death of his father in 1921, as well as by his own political activities. He had only recently graduated from the Alliance, when he started teaching French at the Jewish Community School. As for his poetical production between 1921 and 1924, Eligia clearly starts to lean towards symbolism, making him the forerunner among his contemporary Greek poets and justifying literary critics who classify his work as early Karyotakism.
In 1922, with his intellectual development still in progress, his perception of the world widened and his interest shifted from involvement in Jewish issues to active involvement in the socio-political issues of his age, wherein he took a radical stand. His work now took on the mood of the times and was laden with politically left sentiment; social problems, class conflict and popular causes all found expression in his poetry and in his active participation in class struggles. He often gave talks at the Workers' Centre in Ioannina. He published his poetry in local newspapers like Neos Agon, Kiryx, Epirus and Epirotiko Echo under the pen-name Julios Sigoulieros, later changing it to the more literary Joseph Eligia. On 21st December 1924 he lost his job as French teacher at Zosimaia School in the midst of controversy triggered by the lecture On Post-Biblical Poetry that he had delivered despite repeated cautions by the police and both local and community authorities.
As time went by, Joseph Eligia became more and more aware of the differences that set him apart from the local people and from others of his faith. In 1924, when the core group of Neo Agona, the city's communist faction, broke up, Eligia was forced to leave Ioannina and settle in Argyrocastro because he refused to conform and stay away from the circles he associated with. In 1927 he settled in Athens, where he obtained his diploma in French from the French Academy. He spent hours studying Jewish affairs in the National Library and contributed to the production of the Great Greek Encyclopaedia published by Pyrsos by writing 203 entries on Jewish matters. He had acquaintances in intellectual circles in Athens, like Markos Avgeris, Fotis Kontoglou, Kostas Varnalis, Stefanos Dafnis and Miltiadis Kalakasis, and also had links with Petros Pikros and Galatea Kazantzaki (1931) in the Protoporon circle. He returned to Ioannina for a short while in 1927, before taking up a post as a French teacher in Kilkis. He spent a whole year trying to get a transfer to Thessaloniki. Then in 1931, clearly worn out, disheartened and suffering from typhus, he went back to Athens. He died in Evangelismos hospital that same year shortly after his thirtieth birthday, and is buried in the old part of Athens First Cemetery.
Throughout his short life, his poetry remained a true reflection of his socio-ideological searching. In short, it would be true to say that Eligia lived and created poetry between two worlds; the microcosm of his city's Jewish community and the wider socio-political reality of Greece in the 1920s.
Source of texts and photos: The Jewish Museum of Greece, https://www.jewishmuseum.gr/en/joseph-eligia-and-his-times-life-and-works-part-a/ – https://www.jewishmuseum.gr/en/joseph-eligia-and-his-times-life-and-works-part-b/